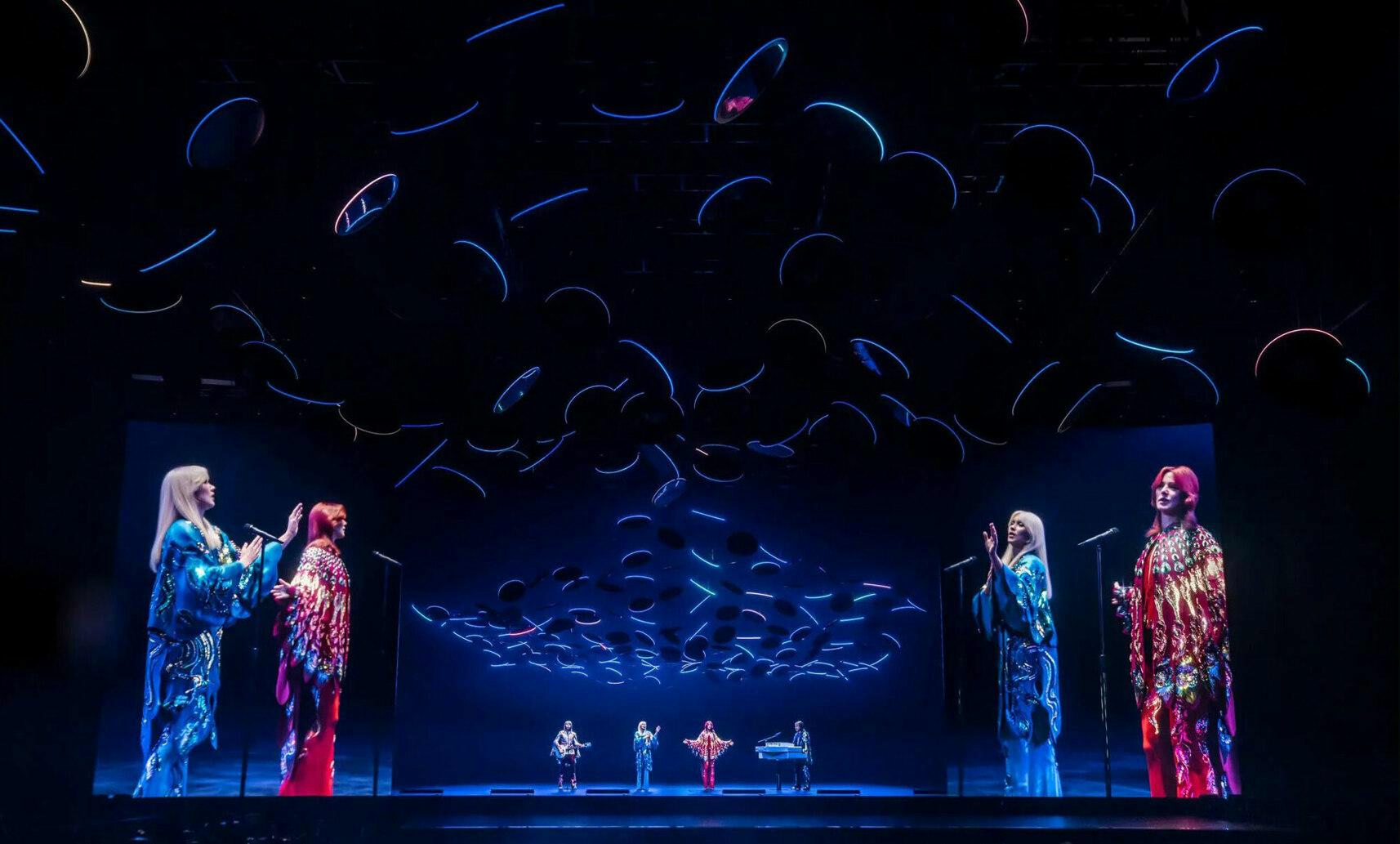 Every once in a while, a show production comes along that revolutionizes the business. The new ABBA tour known as VOYAGE is such a production. Designed to go beyond, the Swedish pop group reunites in the form of avatars featuring all 4 members of the greatest pop act of all times, Agnetha, Bjorn, Benny and Anni-Frid, performing as their younger selves. Four decades after they last went live, audiences can once again see ABBA onstage in an innovative show where past and future seamlessly fuse
Throughout the production the audience is led on a magical 1970's glittery nostalgia tour of never ending highs aka the ABBA classics.
To create that extraordinary experience the group was filmed in skintight suits for lifelike recreations and motion capture technology was used. For the real life touch, the Swedish 4 are backed up by a 10-piece live band.
The Voyage is not just a concert, it is a concert experience.
REALITY IS MERELY AN ILLUSION
Show ambition of the VOYAGE production has always been to provide the audience with a 'bigger than real' experience'. For that purpose a custom-built ARENA was designed and constructed (Stufish) on Pudding Mill Lane London, temporary and demountable for reuse on new future sites.
In its heart the show stage: an 'internal clear span of 61m to allow for a 360-degree immersive experience'. All of this prepped for an epic infusion with fancy digital wizardry, live acts and a motion controlled synergy of scenic objects, lighting, sound & vision.
Stage motion in the ABBA context must be seen as an extra dimension to support the augmented reality sensation.
Besides custom built structures and devices, WI input mainly consists of making scenic, lighting and video collaborate in a perfect motion dynamic.
Moving physical objects to enforce the augmented reality experience would be best to describe the ingredients of the VOYAGE setting on which
WICREATIONS embarked already early 2020. An honour and for sure a next level challenge to deliver such a completely new show experience to perfection.
For this purpose WI installed a semi fixed installation comprising a tracking system and brackets for side screens, motion for moving light trusses, custom built and motion controlled roll drops and the same applies to the large stage elevators, mist rings and some smaller items.
The roll drops, the largest with a 12m span (!) and 0 deflexion are a world's first
The ABBA stage behind the scenes is of an unseen complexity with details refined and retuned to
absolute perfection. In compliance with the request of the ABBA production we don't publish technical
information on our backstage input for the ABBA concert.
Our contribution for the ABBA stage is 'so big' meaning it consists of so many motioned devices in so many combinations and integrations, that it allows the production to vary on their stage design and create different effects.
Tech from Flanders behind the ABBA VOYAGE performance London PML. Interview with Hans Willems CEO WICREATIONS for VRT NEWS.
CREDITS
WICREW
Account & Project lead: Geert Stockmans
Project manager: Mark Haegemans
Chief engineer: Wessel Fortuin
Lead technical design: Jonas Vanwezemael
On-site load-in: PieterJan Nouwynck
Programmer: Lesly Van Rompaey
On site motion operator: Joey Poortman
Onsite project management: Danny Van Malder & Koen De Kunst