Entertainment engineering specialist WIcreations celebrated its 10th birthday in style over the weekend with a large party for its many fans, friends, clients and acquaintances in home town Heist-op-den-Berg, Belgium.
The company was founded by Hans Willems in 2006 to tackle all those challenging, crazy and innovative projects that occur in the industry … with style, flair and imagination.
Back in 2006 he had a big dream, which was to work with like-minded – and possibly slightly mad-in-a-good way – people – to realise ambitious projects that pushed the technical envelope and required custom solutions
Now with 14 full time staff all with multi-disciplinary knowledge. a team of top project managers, an extensive R'n'D department, an international portfolio of clients and numerous projects, large and small, standard and esoteric on the CV – there's every reason to celebrate the first decade of WIcreations!
Hans – who has kept the company's independence and spirit intact – has followed his passion and developed a highly successful business.
WIcreations is engaged on a constant stream of eclectic projects from installations to live events and performances, each needing clever elements of customized rigging, flying, lifting, turning and moving objects and systems … plus those little touches of ingenuity that make the WI phenomenon so unique.
Safety and doing things to inscrutably high standards has always been a core value of WI projects and in addition to all the fabrication and motion control assignments, a unique practical range of off-the-shelf WI products that have been developed and are now in rental stock. Towers, trussing and assorted tracking and automation elements have been designed to be efficient and cost-effective and make basic 'automation' available to all levels of shows, events and touring.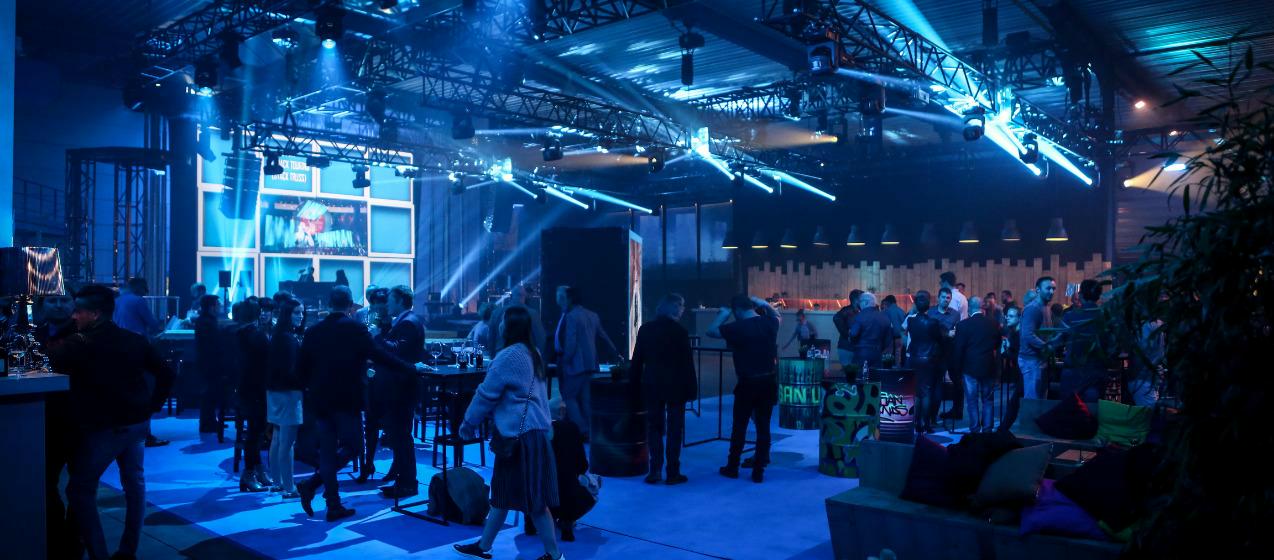 WIcreations kicked off its first year of trading in 2006 auspiciously designing stage and movement elements for Holiday On Ice's 'Mystery' show, the Asian Games in Doha, Bon Jovi, U2's Vertigo tour and Belgian rockers Clouseau.
Highlights from the last 10 years have been many!
They included devising the movement and control for a massive video constructed from 384 panels of Lighthouse R16 that tracked 110 metres along platform 9 of St Pancreas station in London for the launch of High Speed One (HS1), splitting into 8 sections and various other configurations during the show.
Another was engineering the supporting grid for U2's incredible 360 tour's concertinaing video screen in 2009; then the company's expertise was harnessed to wirelessly slide a seating tribune - complete with 2000 audience - 90 metres back and forth throughout the ground-breaking 14-18 Spektakel in Mechelen in 2014,as well as 11 scenery wagons which moved on, off and around the performance area.
WI's work has embraced all sectors – from festivals, events and concert touring to theatre productions, art installations, sporting events – including London 2012 and the famous flying carpet for the 2015 European Games in Baku, Azerbaijan - fashion shows, corporate and industrial launches and product experientials
In this past 12 months WI devised the system to move Beyonce's massive video Monolith; engineered and delivered fully wirelessly operated, self-driving LED video cubes – based on their ingenious laser guided wagon system for a pre-launch of the brand new Peugeot 3008 SUV; and designed and supplied motion control, customised staging and hardware / infrastructure for Russian singer and superstar Philipp Kirkorov's tour featuring spectacular show design by creative director, Franco Dragone … amongst many others.
Ten years on and the dedication and energy is every bit as strong and heartfelt!
WI is still working for many long-term clients ling term like Clouseau, for which they are promising "something very special" for the maverick Belgian rockers' upcoming shows at Antwerp Sportpalais in December.
Having built a solid base and proving time and again that the seemingly impossible can usually be achieved safely and spectacularly with a canny combination of genius, lateral thinking and sometimes having the sheer balls …
"We are ready for the next step" declares Hans enthusiastically!
That will include expanding the work more globally and pushing the brand and its penchant for creative technical solutions to new highs.