Adding MOTION to EMOTION. Proud to have been partner for the stage automation system for the 7 ESC23 moving LED screens for the UK hosted Eurovision Song Contest 2023 on behalf of Ukraine. With 150+ million viewers and a massive online presence, Eurovision is the biggest music competition worldwide and therefore on the bucket list of everyone who operates in the sector.
AUTOMATED LED
So good for the WI team dynamics that our expertise has been valued high enough to participate in what is undoubtedly 1 of the most sensational gigs on all levels of creative and technical live entertainment production. WI have been entrusted to develop an automated LED solution using stock rental equipment which met onstage safety concerns and applicable regulations.
MADE IN BELGIUM
Design and fabrication of the complete frame for video and screens, motion programming of the screens and testing took place in our warehouses in Heist-Op-Den-Berg Belgium. To set the 7 ESC23 LED screens in motion, WI supplied and installed 14 tracks, runners and drives together with 5 WI rotators TP10. WI crew onsite supported with the show motion control.
WI have already been partner for Euro contests in the past, but it's the first time the production contacted us directly for the job.
Due to our proven track record on the world's biggest stages, WI have gained a high level of expertise in automating LED screens with attention to detail, pixel alignment, gravity control, verticality and perpendicular hanging. Side screens 1 and 7 weigh 2.5 tons each, measure 4mx10m and TRANSLATE 2m upstage while 2 and 6 travel furthest as well as ROTATE just like screens 3, 4 and 5.
The 5 middle screens weigh 3 tons each, measure 3m x10m each and have back lighting on top of the video projection. Biggest challenge undoubtedly has been the short eight-week time frame between design, installation and rehearsals with a test build in between. But thanks to a great collaboration with Creative Technology, Faber Audiovisual, Neg Earth Lights and Unusual Rigging WI could deliver as scheduled meeting all the requirements.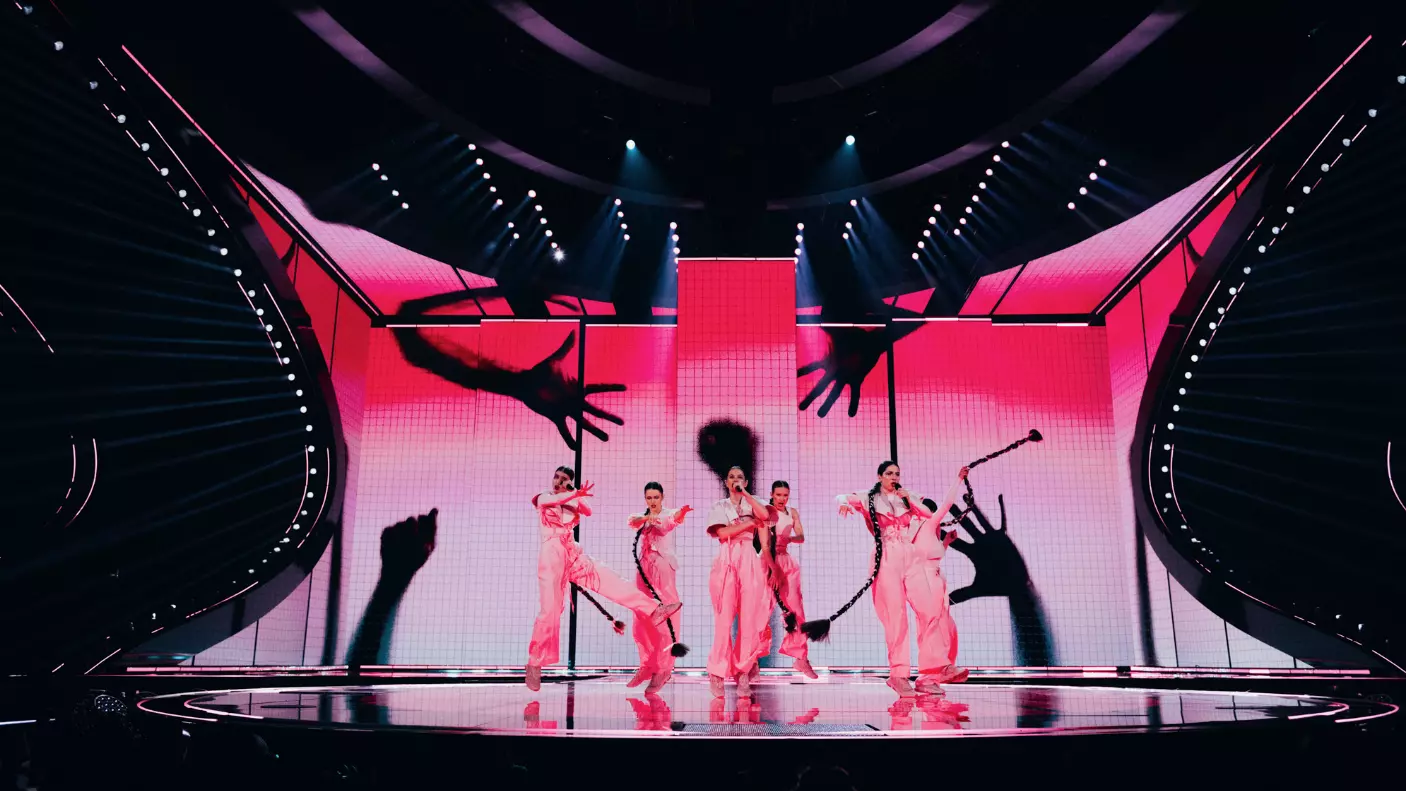 Video towers can rotate, slide forwards or be lowered, totally transforming the stage for each performance - Julio Himede - Yellow Studio.
14x Tracks TP01 and Stack trusses
14x servo Runners 1/30 089B | 4.8Nm
14x Drives WI-500-SE01-015-T187-0000-00-1
5x WI- Rotators TP10 servo driven with EVO PM 015 drives
WIMOTION control system
Complete custom frame to suspend video and screens
CREDITS
In the long list of talented colleagues and crews, our special thanks go to the partners we most closely collaborated with.
Production - GBA Live
Stage Design - YellowStudio with special thanks to Julio Himede
Video - Faber Audiovisual
Lighting - Neg Earth Lights
Rigging - Unusual Rigging
Safety Assessment - Blumano
WITEAM
Geert Stockmans - Project Lead
Jasper Rosiers - Project Manager
Lesly Van Rompaey - Automation Design
Wessel Fortuin - Engineering Lead
TECHNICAL DESIGN
Tim Bernaerts
Ward Van Hassel
OPERATORS ONSITE
Joey Poortman
Roger Smissen
TECHNICIANS ONSITE
Stano Kusik
Tomasz Kadlubek
Fran Bradley
Martin Rumler
Darren Clive Pitt
Senne Diels