For the closing ceremony of the first European Olympic Games we were charged with the build of the "Fire Temple", an eight meter high structure hidden in a stage floor with video and flames on top of it.
The Baku Ateshgah or "Fire Temple" is a castle-like religious temple in Surakhani, a suburb of greater Baku, Azerbaijan. Based on Persian and Indian inscriptions, temple was used as a Hinduplace of fire worship. "Atash" is the Persian word for fire. The pentagonal complex, which has a courtyard surrounded by cells for monks and a tetrapillar-altar in the middle, was built during the 17th and 18th centuries.
The flames were the easy part to build, fireproof bowls and a nice design did the job. But raising a temple was something different. Especially with a 2600kg video as "roof".
To raise the heavy structure we installed four elevators, one on each corner. Each elevator is accompanied with two hydraulic pistons to guarantee a linear path until it's stretched out entirely. The elevators have an "in" height of only 1m, but when there fully extended they can go up to 8m! End this without losing strength!
This temple was hidden during the beginning of the show, in one of the three Buta stages. (A Buta is one of the richest ornamental elements of Azerbaijan's decorative arts. Buta is frequently used for expression of the fire, flame images.) When it's time it came out and formed the temple, just before the flames and the central desk were put in place.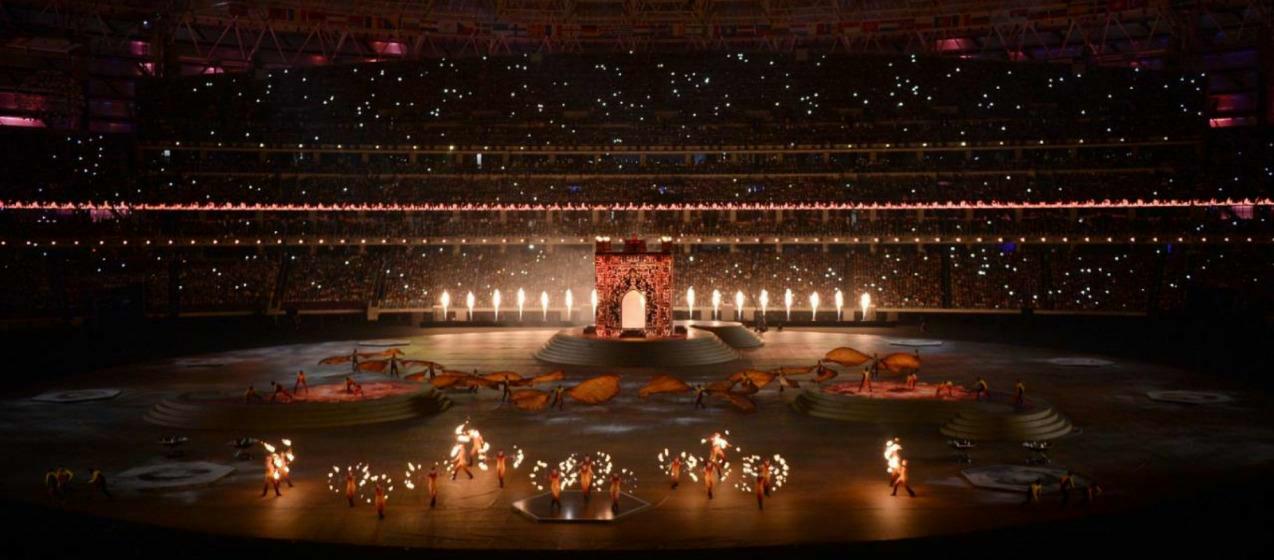 Not only the eye catching temple was our design, also the construction of the three organic shaped "Buta" stages was done by us. Ashwell the steel and aluminum as the wood elements. Very precise welding and measuring lead to a perfect result! All three stages were built here in Belgium, and were put together inside the stadium without any problems. We designed a special system to place all video tiles very fast and precise. This saved hours of work! All video was installed, tested and approved. The biggest Buta stage also included the temple. By building and designing these element together, we were very sure everything would fit and work on the moment of truth!
Our eight headed team worked perfectly together to complete this mission without any mistakes or errors.