The new POWER DATA WINCH addition to the WIMOTION system family offers a brand new playground for show designers. It opens the scope of bringing in and out lights, props and special effects in a subtle way without precedent up to now.
This new high end compact device marks a new beacon in the development of show effects and opens up a wide range of new creative possibilities for show creators. The POWER DATA WINCH goes beyond the well-known small winches by adding considerably to the maximum payload at a speed of 1 meter per sec for up to 16 meters.
No twisting or rotating of your load with the double steel wire. Power and data are transmitted through an integrated multi cable. It has been designed with a safety level in mind compliant with the latest standards.
Based on the combined experience of motion experts and WI engineers, the new winch is fully developed in-house with the aim to serve a yet undiscovered application: the full 3D experience of subtle objects appearances and this in 360 collaboration with other show technology.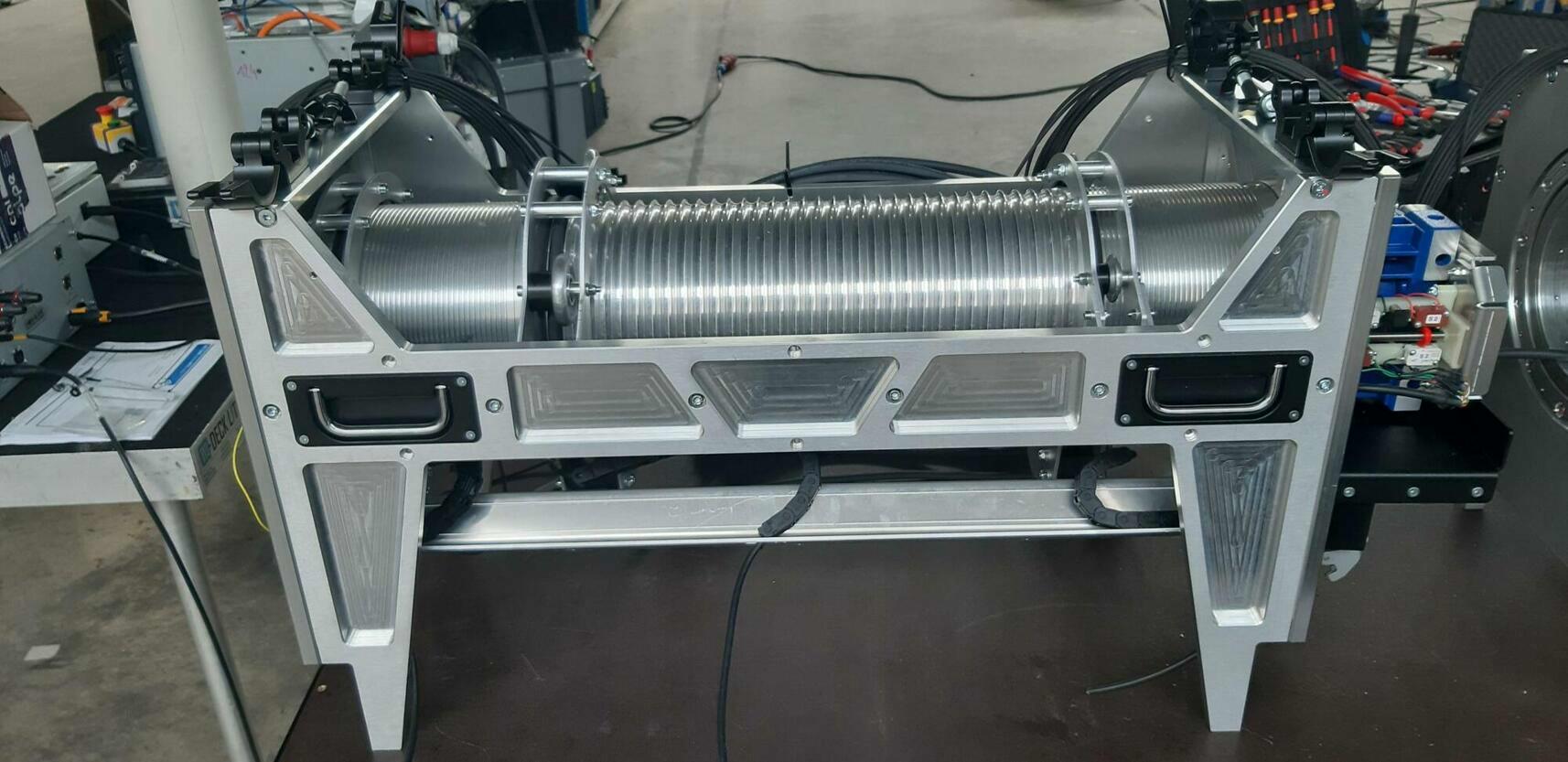 WIMOTION's new POWER DATA WINCH is a compact scenery winch
Maximum load of 100KG travelling at 1 meter per second over 16meters in near constant duty
Equipped with a doubled steel cable to prevent unwanted rotation
EN17206 USE CASE 3 and 4 compliant
Clamps compatible with most common truss sizes and can even be pre-rigged in a custom 50x50 truss
Power for your payload via powercon and data via ethernet connector
Position data in 3D via PSN broadcast from our WIMOTION ecosystem
WIMOTION software at the heart of our ECOSYSTEM is the programming and steering force of all WI motion devices and of course used at the FOH motion desk.
The system allows an interconnection and collaboration with the other show designers and operators in the FOH by sending out PSN protocol. (3D data positioning of the object). This exact position of the rigged object, a moving head for instance allows the lighting designer to program the fixture accurately how he or she wants it to be during a cue in vertical motion. More than traditional DMX devices the POWER DATA WINCH adds to accuracy by offering the PSN data stream.
Imagine the video content interacting with this moving head and whole new series of potential effects start making their way to the stage. Video content designers now get a chance to endorse their content intention by adding a 3D real life effect to the experience. Collaboration between motion, video and lighting definitely is in the now.
A great example of video with an enhanced 3D effect was the synchronized experience of the helicopter video content and the ROBE BMFL WashBeam at Eric Prydz's set - Freedom stage TML 2022
When the exact position of a winch is not only a matter of aesthetics but also a question of primal safety for the audience and the cut out of the camera lenses, the PSN casting of the new winch again proves its value add. During the performance of Eric Prydz at TML Freedom our motion operators synchronized through PSN with the artists laser team.
Leaving imagination and creation to the experts, besides lighting and video designers, audio and Special Effects Creators might also find their motion buddy in this versatile new winch and related motion product family.
WIMOTION software 3D VISUALIZER is available for download on PC for free to all show designers to create and play with inside the WICOMMUNITY. To become a part of it, request your membership here: www.wi-community.com.
Want to know more about WIMOTION ECOYSTEM? Read all about it here
PLAY CREATE CONNECT SHOWTIME