WIMOTION is our own highly versatile and fully documented stage automation system meeting the most stringent of safety regulations. It has been designed to offer the current and next generation of creatives and technicians the most complete and user-friendly options for moving scenery, objects and people in entertainment shows, fixed installations, industrial applications and more. The scope of products works on different levels allowing the show designer to make a range of fully redundant SIL3 motion configurations from small to huge. Meet our full line of hardware and software solutions. All are in-house devices and in rental stock.

Let's take you on a configuration tour.
A SMALL WIMOTION Configuration
Tips for the designer
You can connect up to 10 devices directly to the WI-Desk Lite. In this configuration, we took 8 WI-Hoists with VSD-HO WI-Controllers and added 2 WI-Winches connected to the VSD-MU WI-Controllers. Hold-To-Run and E-stop are built into the WI-Desk Lite with a real SIL3 safety function. The APC feature will auto-detect the devices. The lighting desk can send ArtNet to the WI-Desk Lite. The WI-Desk Lite can broadcast PSN info to the media server. Back up your show by installing WI software on your laptop, benefitting from the fact you have an extra screen and connect it to the desk. Congratulations, you have built a real SIL3 set!
Global, Local & Local-Local refer to the E-stop safety levels of the different groups ranging from the entire installation with central control desk over a smaller group up to a 1 machine configuration.
Air speed. Let's build larger
A MEDIUM WIMOTION Configuration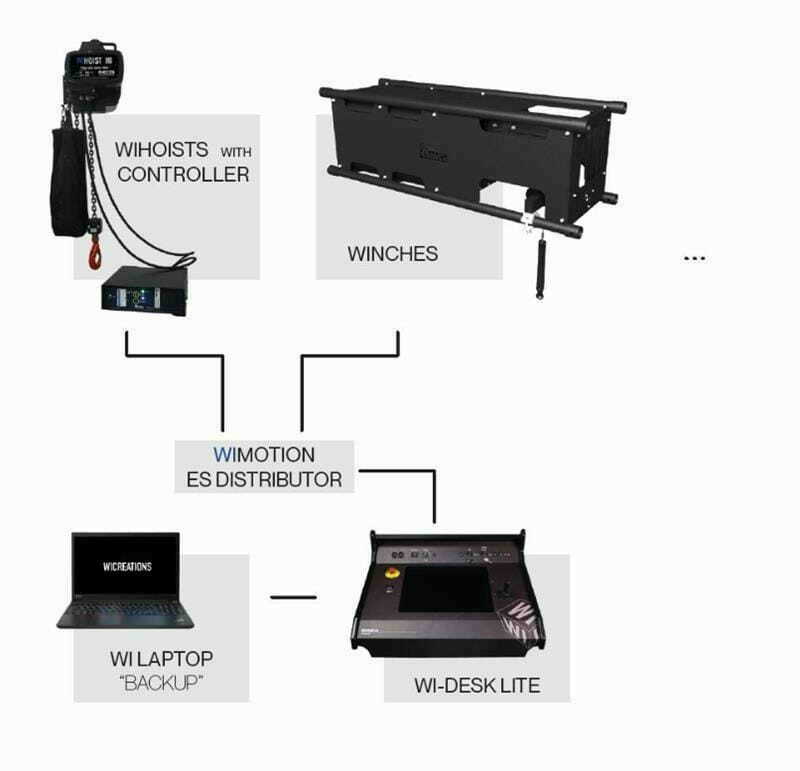 Tips for the designer
The WI-Desk Lite is connected to the WI-ESDistributor, which can connect up to 42 devices.
Back up your show on a WI-Laptop. Nice to know... our WI-Desk Lite flight cases have a dedicated space for a WI-Laptop, so there's no need to worry about that. Having an extra screen will come in handy if you have a spotter or anyone else in the FOH who wants to follow your motion cues.
High speed right now. Let's empower
A LARGE WIMOTION configuration
Tips for the designer
Now you're building in an extra layer of WI-ESDistributors and shifting to a full WI-Desk. This makes it possible to multiply your entire configuration and control up to 294 devices. We are bringing in an extra WI-Desk Lite as back-up here because you might be bringing in an extra operator to manage 294 devices. Remember these MOTION devices can be anything : rotators, winches, hydraulics, tracks etc. Anything that makes your scenery move or your actors fly.
Welcome in the no boundaries zone
AN XXL WIMOTION Configuration
The XXL configuration allows you to control a total of up to 588 motion devices.
Tips for the designer
You're going all the way here... In the center of control is the WI-Desk backed up by 1 or 2 WI-Desk Lite. To manage all these devices, you will probably bring in spotters or even several spotters-operators with a WI-Pad which gives them more authority than just holding the Dead-Man's-Handle. This means, we're adding a WI-ESCommander to manage and zone all safety functions. The WI-ESC will allow the creation of groups. Within that group, you can define 3 spotting/operating profiles: Global, Local or Local-Local. If needed you can reinforce this configuration by a WI-Server. Motion acts are cued by the Lighting Console and safely parameterized by the WI-Desk. This configuration allows you to control a total of up to 588 motion devices.